Vincent Granville's Webpage
Updated August 20, 2018. Initially a consultancy funded by Dr. Granville, with clients such as Visa, Microsoft, and eBay, Data Shaping Solutions experienced a new life starting in 2015, becoming a data science think tank, intellectual property and idea foundry, with a focus on automated data science, machine-to-machine communications, robust black-box machine learning algorithms, and statistical / probabilistic number theory research, with applications to Blockchain, Fintech, cryptography, and quantum computing. It has now become my web page.
1. About Vincent Granville
Below is a picture taken at the summit of the Pigne d'Arolla in Switzerland ( I am the yellow guy). See more of these pictures here.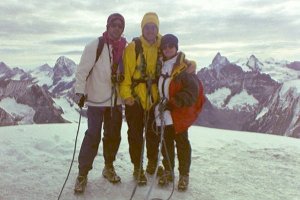 To see how my resume looked like 20+ years ago, click here.
2. Selling my Little Cottage
This 3-story, 1,593 square foot cozy cottage built in 2013 was barely used by the owner as a vacation home and looks brand new.  It has ocean and San Juan islands views, and it is located in the driest spot in western Washington. Walk to the beach, or to the San Juan island ferry that goes to Friday Harbor and Victoria island in British Columbia. Enjoy world-class restaurants such as the Willow Inn restaurant, and beautiful sunsets. Luxury cottage with fireplace and top appliances, 90 minutes North of Seattle, 90 minutes East of the snow-capped North Cascade mountains (you can see Mount Baker from the beach) and 90 minutes South of Vancouver, priced right by the motivated seller who just bought another home in the same neighborhood.

For more information, click here. For my California friends, click here for more.
3. Data Science Search Engine
For data science queries, use the search box below.