Thanks to its network of talented Statistical Consultants, Data Shaping Solutions also offers a wide array of expertise in design of experiments, time series, predictive modeling, survey analysis, customer profiling, pattern recognition, statistical testing, data mining across several industries (including Finance, Internet, Marketing and Litigation), as well as programming languages such as SAS, Java, C, C#, Perl, Splus/R and SQL. Also, we have partnered with a number of companies to offer state-of-the-art internet solutions such as black box trading.
Bios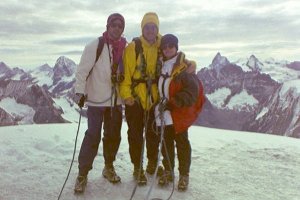 Olivier, Vincent and Paris summiting the Pigne d'Arolla
in the Swiss Alps (12,455 ft)
Vincent Granville, Ph.D., Principal

Dr. Vincent Granville has successfully solved problems for 15 years in data mining, text mining, predictive modeling, business intelligence, technical analysis, keyword and web analytics. Vincent is widely recognized as the leading expert in click scoring and web traffic optimization. Over the last ten years, he has worked in real-time credit card fraud detection with Visa, advertising mix optimization with CNET, A/B testing with LowerMyBills, online user experience with Wells Fargo, search intelligence with InfoSpace, click fraud detection with major search engines and large advertising clients, as well as statistical litigation.

Vincent was formerly Chief Science Officer at Authenticlick, where he developed patent pending technology. Most recently, he successfully launched DataShaping and AnalyticBridge, the largest social network for analytic professionals, with 20,000 members. Vincent is a former post-doctorate of Cambridge University and the National Institute of Statistical Sciences. He was among the finalists at the Wharton School Business Plan Competition and at the Belgian Mathematical Olympiads. Vincent has published 40 papers in statistical journals and is an invited speaker at international conferences. He also developed a new data mining technology known as hidden decision trees.

Paris Sangrene, Client and Partner Relationships

Paris earned her Master's Degree in foreign languages and literature from University of Northern Iowa, and her BA from Drake University. She is responsible for sales, marketing and public relations. Paris supervises our computational marketing campaigns, affiliate programs, e-bookstore and client relationships. Paris created our e-commerce platform and manages our partnerships, including RecruitUSA, KDNuggets, Authenticlick, InfoSpace and MSN. She is also editor of a major journal and appeared in a TV production by Annenberg-WGBH.